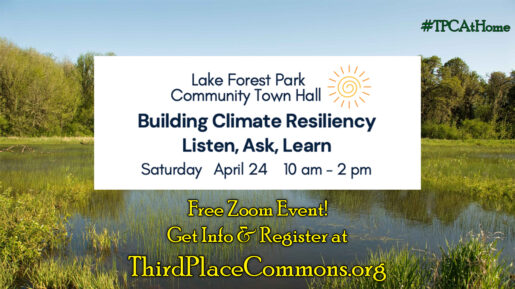 Join us on Saturday, April 24th from 10 AM to 2 PM for a Lake Forest Park Community Town Hall on Building Climate Resiliency. Listen, ask, and learn about climate change and the challenges and actions we can take as a community to make a difference.
Drop in and out of sessions as your schedule allows. There will be full group presentations and breakout discussions with new sessions beginning each hour. More details coming soon!
Program Schedule
10:00    Opening: Tracy Furutani
Welcome: LFP Mayor Jeff Johnson
10:05    Vicki Stiles: Historical Environmental Change in Lake Forest Park
10:30    Brian Saunders: Climate Change Past, Present and Future
11:00- 11:30 Breakout Session 1 – Choose your own room/topic
Steven Lough, Electric Vehicles – Bikes and Cars
Natalie Caulkins,  Rumors and Realities of Recycling
Denise Draper, Carbon Footprint for Small Organizations
11:30-12:00 Breakout Session 2 – Choose your own room/topic
Sam Lai, Energy Efficient Homes
Stacy Strickland and Stephanie Wall, Living a Zero Waste Lifestyle
12:00-12:15 Break with Short Climate Videos
A Net-Zero makeover in Marymoor Park
Thousands of Seattle students join worldwide movement against climate change
NHL Seattle Announces Climate Pledge Arena
12:15-1:15 Panel Presentation: Wise Climate Voices: The Next Generation
Moderator: Brian Saunders
Panelist: Bella Tancreti, Shorecrest HS Sunrise Movement
Panelist: Regina Fletcher, UW Bothell Freshwater Stream Habitat-Lyon Creek Park
1:15-1:30 Taking the Next Steps Community Conversations
Select a breakout room with your topic of interest
1:30 Conversation Report-outs
2:00 Adjourn
Speaker Bios
Vicki Stiles, Historical Environmental Change in Lake Forest Park
Vicki has been the executive director of the Shoreline Historical Museum since 1992 and has an MA in Anthropology and Museum Studies from the University of Washington. Ms. Stiles has done extensive research and published numerous articles on the history of Northwest King County and the Lake Forest Park area, including the changing historical environment. She is a past president of the Shoreline Breakfast Rotary Club and served as the president of the Association of King County Historical Organizations (AKCHO).
Brian Saunders, Climate Change: Past, Present, Future
Brian is a faculty member at Shoreline and North Seattle College in the Math and Science Department as well as a long time LFP resident. He received his BS in Biology and MS in Marine-Estuarine Sciences at WWU. His thesis focuses on the intertidal ecosystem and the adaptations of marine invertebrates. He is a strong advocate for conservation and preservation of sensitive habitats, especially in and around the Salish Sea. He has been an instructor at the college level since 1996. He has taught Biology for majors and non-majors, Zoology, Environmental Science, Oceanography and Marine Biology. He is also on the board of the Lake Forest Park Stewardship Foundation. Brian, and his wife Ellyn, have two children attending Shorecrest High School.
Steven Lough, Electric Vehicles: Bikes and Cars
Past President of the Seattle Electrical Vehicle Association (SEVA)
Steven's family GM Dealership sold Electric Vehicles in the 1980s. He lobbied for favorable EV legislation in Olympia and aligned SEVA with Puget Sound Clean Cities Coalition and other environmental groups. Steven is knowledgeable about EV cars and bikes available today and various options to keep them charged. He owns EV cars and bikes, loves answering questions about them, and lets people know that anytime is a good time to buy an EV.
Stacy Strickland and Stephanie Wall, Living a Zero Waste Lifestyle
Stacy Strickland, Director of Community Partnerships.
Stephanie Wall, Chief of Staff at Community Partnerships.
Stacy and Stephanie believe in a world without waste, so they started getting together to talk about how to live with less waste and take care of the environment in June 2016. Seattle Zero Waste was created with the goal of bringing like-minded people together. Today, they empower and inspire people to reduce their waste through meaningful relationships and collaboration. This includes sharing sustainability tips and tricks for how others can implement the zero waste philosophy at home and in the community. In efforts to expand their ideas for reducing waste and have a stronger voice as we all vote with our dollar, they also love to help others work within their local communities to promote the zero waste lifestyle and start their own movements to help our planet. Seattle Zero Waste: https://www.seattlezerowaste.com
Sam Lai, Energy Efficient Homes
Founder of Green Canopy (GC) https://www.greencanopy.com/
Sam began Green Canopy in 2009 out of frustration that the building industry continued to embrace old building methods and not green technology. GC builds new homes and has done 70 rehabs to be all-electric in Seattle. The homes have solar panels and use Net Zero energy. He will tell us about heat pumps (space and water heating), induction ranges, and solar panels. He will describe an energy audit as the first step for us to increase our home energy efficiency, and give you names of reputable firms if you want one. You may find simple things like better insulation and stopping unnecessary air leakage will save you money.
Natalie Caulkins, Rumors and Realities of Recycling
Natalie is the Recycling Coordinator with Republic Services. She provides education on recycling right, waste reduction, and waste diversion. From giving presentations to leading classroom games, Natalie unites her passion for environmental sustainability with her experience teaching English in Japan. She brings a deep awareness of other cultures from living in Morocco, Japan, and India and incorporates that knowledge in her outreach work. Before coming to Republic Services, Natalie worked at Kittitas County Solid Waste where she gained an appreciation for the challenges faced by local governments in the solid waste sector. She is an active member of the Recycle Right Consortium where she collaborates with other haulers and County staff to simplify and unify recycling guidelines. She has a Bachelor of Arts in Biology from Reed College where her thesis concerned plants and biodegradable plastics.
Denise Draper, Carbon Footprint for Small Organizations
Denise is a retired software developer and software development manager. Lately, she has been devoting much of her time to understanding climate issues and options. She recently purchased a small tree farm to do hands-on research into climate-supporting forestry. The practices for understanding and measuring greenhouse gas emissions (aka carbon footprint) are evolving rapidly and sources of concrete information can be hard to find, inconsistent, etc. All of which makes it hard to really understand how you can make the most impact with the options you have. In this presentation, Denise will quickly go over the current state of the art on carbon footprint measurement and how to measure the impact of change. Denise will also share the best resources she has found for doing your own investigations.
Supporting Organizations
Thank you to the following organizations for their promotional support:
City of Lake Forest Park
Lake Forest Park Garden Club
Lake Forest Park Water District
League of Women Voters
NUHSA North Urban Human Services Alliance
People for Climate Action (LFP)
PTA Council
Rotary Club of Lake Forest Park
Sunrise Movement Shorecrest
Stewardship Foundation
Shoreline Chamber of Commerce
Shoreline Historical Museum
ShoreLake Arts
StreamKeepers