THANK YOU to everyone who joined us for our annual community breakfast. We're so grateful for your generous support that is so essential to creating real community in this real space.
Did you miss the breakfast?
You can still help this vital Commons community – YOUR Commons community – to thrive with a gift of support.
Make an online gift now or send your check to Third Place Commons, PO Box 82355, Kenmore, WA 98028.

Thank you!
---
Join us!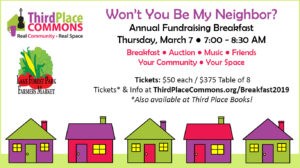 Won't You Be My Neighbor?
Annual Fundraising Breakfast
Thursday, March 7, 2019 at 7:00 AM
Grab your slippers and cardigans. The Annual Community Breakfast is coming and you won't want to miss a thing.
Tickets: $50 each or $375 for a Table of 8

About the Event:
This year's theme, Won't You Be My Neighbor?, is a celebration of all that connects us in this special community of friends, colleagues, and yes, neighbors. And who better to honor with our Friends of the Community Award in such a year than one of our organization's founders and beloved member of our Commons community, Anne Stadler!
Breakfast ● Auction ● Friends ● Community
Join us!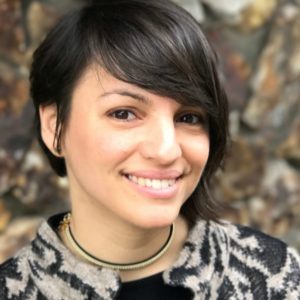 Featured Speaker: Mónica Guzmán
Mónica Guzmán is co-founder and director of The Evergrey, a daily newsletter that helps thousands of Seattleites make the most of their city. She is a former columnist at The Seattle Times, GeekWire, The Daily Beast and The Columbia Journalism Review, and studied ways to build closer connections between journalists and the public as a 2016 Nieman Fellow at Harvard University.
Mónica is the author of the influential 2016 API strategy study "The best ways to build audience and relevance by listening to and engaging your audience" served as vice-chair of the Society of Professional Journalists Ethics Committee, and was as a juror for the 2013 and 2014 Pulitzer Prizes. Mónica's a big fan of chocolate, karaoke, and nerdy board games, and lives in Seattle's Wedgwood neighborhood with her husband, Jason Preston, and their two kids.

A BIG Thank You to Our Event Sponsors!
PLATINUM SPONSORS
GOLD SPONSORS