Join our Market Team! Help make the Lake Forest Park Farmers Market a success! We currently have immediate openings for the following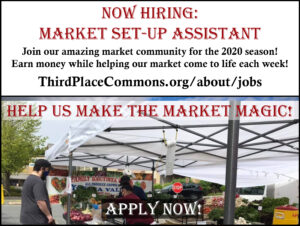 :
Market Set-up Assistant: The market set-up assistant is an integral part of our weekly process. We need a strong, highly responsible individual to load-in and load-out our market essentials each Sunday. Training provided. This is a seasonal, contract position that will start immediately and run through the season. Pay is $75 per market day for an average of 1.5-2 hours total. Read the full details in the position description.
Market Set-up Assistant position description_May2020
A job application may be submitted in place of a resume for this position.
Generic Job Application_Fillable Word
Volunteers: Help us keep our market safe for everyone! Market volunteers assist us with monitoring the entrance and exit for our controlled entry process and reminding folks about social distancing and other market policies (like wearing face coverings). Typical shifts are 2 hours with shade/umbrellas and seating available for those who need it. Can you help? Email us at [email protected]
Thanks and see you at the market!
---
Friends of Third Place Commons, a 501(c)3 nonprofit organization founded in 1999, manages the Commons for the community. Adjacent to Third Place Books on the upper level of the Town Center at Lake Forest Park, the Commons is a large and flexible community space that encourages both spontaneous and organized activities. Features include seating for restaurants, free Wi-Fi, a safe place for children to play in sight of their caregivers, a semi-private meeting room, and a stage.
Every year, Third Place Commons hosts over 900 free public programs for people of all ages, interests, and abilities. With play and learn programs for infants, concerts by local students and other community groups, educational opportunities for adults, Friday and Saturday night music, book clubs, Mahjongg and arts gatherings, plus the Lake Forest Park Farmers Market, the Commons is a lively and welcoming place.