Friends of Third Place Commons is a 501(c)3 nonprofit organization founded in 1999 to manage the Commons for the community.  Adjacent to Third Place Books on the upper level of the Town Center at Lake Forest Park, the Commons is a large and flexible community space that encourages both spontaneous and organized activities. Features include seating for four restaurants, free Wi-Fi, a safe place for children to play in sight of their caregivers, a semi-private meeting room, and a stage.
Every year, Third Place Commons hosts over 800 free public programs for people of all ages, interests, and abilities.  With play and learn programs for infants, concerts by Shoreline School District students, educational opportunities for adults, and activities for seniors, the Commons is a lively and welcoming place for everyone.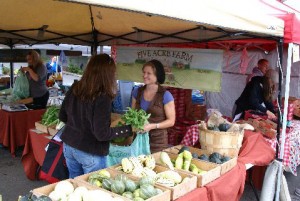 The Lake Forest Park Farmers Market is sponsored and run by Third Place Commons.  From Mothers Day through the third week of October, farmers and artisan food processors set up in the parking lot in front of the Professional Building every Sunday morning.  Since the market opened in 2005, it has grown into one of the most successful suburban markets in the region, with over 45 vendors, and an average of 7,000 shoppers each week.  Once during the summer, we include a crafts market; and during the winter holidays, we bring the market indoors for two special events.
Third Place Commons works in the community through vital partnerships with other nonprofit organizations and agencies.  With the help of generous donors, we sponsor a food assistance program through the Lake Forest Park Farmers Market.  We work with several of our partners to distribute Market Bucks to individuals and families who may otherwise lack access to fresh and nutritious food.
Our Vision
Third Place Commons: vibrant, safe, welcoming space open to everyone.
Our Mission
Enrich and foster real community in real space at the Commons.
Facilitate free public events in the Commons.
Sponsor the local farmers market.
Partner with civic, arts and social service entities to help maximize their impact.